MEPV ULTRA 350W
The MEPV ULTRA 350W panels have 60 cells and are Full Black panels.
Thanks to the MWT (Metal Wrap Through) technology they are more efficient, profitable and resistant. They have an efficiency of 20.59%, which is much higher than other conventional modules on the market.
Because these panels do not have HCC, there is only one junction box needed, which often makes it easier to install. However they do deliver the same yields when there is no shade on the roof. On top of that these panels don't have busbars, this makes them have a higher efficiency and they look better because they actually are full black.
Shades have a lot less effect on this type of panels because they have 6 bypass diodes. Whenever the electricity flow is blocked, the bypass diode makes sure it can pass through anyway.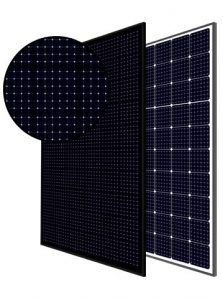 15-year product warranty
20-year performance warranty
Total black look (no busbars)
No busbars so a higher efficiency
High module efficiency of 20,59%
6 bypass diodes; higher yields despite shade
No Half Cut Cells so only 1 junction box
Reduced risk of microcracks thanks to a semi conductorfilm on the back.
TECHNICAL DATA
Dimensions
1680 x 1016 x 35 mm
Weight
19.5 kg
Temperature coefficient
Pmax
-0.36 %/°C
NOCT
43°C
Junction Box
IP67/IP68 according to IEC 60529